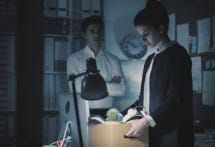 Have you been fired? If you feel like the firing was unfair, you may be wondering if you're just out of luck — or if you have a case for wrongful termination. Should you see a lawyer about your situation? Here are some reasons why it's smart to consider it:
1. An attorney can advise you about the next steps you should take
You may be angry about what your employer has done, but the wrong move can weaken your position and damage any potential case you may have. You don't want to throw away any old work-related documents or fire back at your employer on social media until you have some insight.
2. An attorney can evaluate your case and explain the law
It's very difficult for a layperson to understand employment laws and apply them to their situation. Both federal laws and state regulations have to be evaluated in order to understand if you have a case. An attorney can also help you better understand what might be gained financially from pursuing a wrongful termination claim.
3. An attorney can help you obtain evidence for your case
Most of the time, there's an investigative process that has to be undertaken before a successful claim for wrongful termination can be made. You can bet that obtaining documents related to your performance and firing won't be easy on your own. An attorney also has the power to subpoena witnesses who can provide additional evidence that will support your claim.
If you believe that you may have a claim for wrongful termination, take some time and continue to explore our website to learn more about how we may be able to help you.