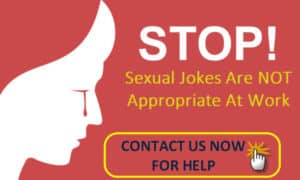 Perhaps you laugh nervously and play along. Maybe you wince or leave the room. Perhaps you have protested and been subjected to backlash. Sexual jokes are not merely "inappropriate" in the workplace — they can constitute sexual harassment. If you've been offended or felt uncomfortable due to inappropriate jokes in the workplace, a San Francisco sexual workplace jokes lawyer can help.
The Armstrong Law Firm can stand up for you if you have been repeatedly subjected to graphic or sexually suggestive jokes at work to the point that it has created a hostile work environment. We have recovered compensation for sexual harassment victims across the Bay Area. Contact us today for a free case evaluation.
Sexual Jokes Are Not Appropriate In The Workplace
There's nothing wrong with your sense of humor if you are offended by sexual jokes. They can be graphic and shocking. They can be demeaning and reinforce negative stereotypes. They can make you feel self-conscious or defensive. They can also be a gateway to unwelcome sexual advances or other forms of sexual harassment. The bottom line is that your employer should not allow sexualized jokes or obscene language in the workplace if a reasonable person would be offended or intimidated.
Sexual jokes that may be considered harassment can include:
Graphic descriptions of sex acts
Jokes containing sexual language and profanity
Sexual innuendo aimed at you
Sex jokes told loudly for all to hear
Sexual jokes or cartoons emailed to your work computer
An issue that can arise in these cases is that the victims have forwarded jokes that were sent to them or engaged in banter in the workplace because they were afraid they had to try to "fit in." The defense may also argue that other co-workers were not offended by the same jokes. We keep the focus on jokes and behavior that are specifically aimed at you or that cross the line into sexual harassment.
Talk To Us Today About Your Sexual Joke in the Workplace Case
Have you been exposed to sexual jokes at work in San Francisco, Oakland, San Jose or Marin County? We will take the time to listen and vigorously pursue your legal recourse if you have grounds to sue. For a free consultation with our top rated San Francisco sexual harassment attorneys at The Armstrong Law Firm, call (415) 909-3945 or contact us online.