Some people use profanity and dirty words freely. Some people use foul language when their emotions run high. Other people think they are being funny. In a workplace setting, however, there is no excuse for obscene or sexual language. You should not be forced to endure dirty words or sexual talk that makes you uncomfortable.
Nobody wants to be labeled as a prude or a snitch. Instead, many employees suffer silently when co-workers or supervisors use explicit or sexually degrading language. At The Armstrong Law Firm, we can help you declare that enough is enough. We have handled sexual harassment claims involving foul language in the workplace throughout the Bay Area and Silicon Valley.
You Don't Have To Be Subjected To Obscene Language At Work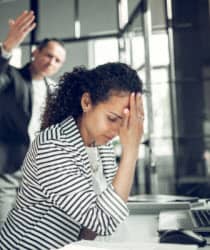 Sexual harassment is not merely physical contact or unwelcome advances. It can also refer to sexualized language that is so upsetting that it creates a hostile work environment:
Profanity and vulgar language
Euphemisms such as "boink" or "screw"
Demeaning terms like "bitch" or "slut" or "MILF"
Crude references to private anatomy
Description of sexual acts
Comments about your body
Sexual come-ons
Depending on who is listening, the offender may dial down the language or use less explicit words. The bottom line is the pattern of behavior and whether the words and the tone are dehumanizing, degrading or threatening to you. Our employment law attorneys can help you document the case for sexual harassment and pursue your legal remedies.
Talk To Us Today About Your Hostile Work Environment
Have you been repeatedly exposed to inappropriate sexual language at work or degrading comments about women in San Francisco, Oakland, San Jose or Marin County? Our proven employment lawyers will forcefully assert your rights and hold your employer accountable. For a consultation, call The Armstrong Law Firm at (415) 909-3945 or contact us online.