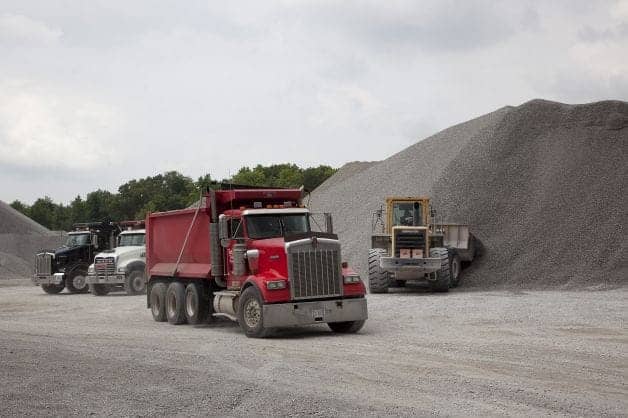 View of the trucks in the Vulcan Materials Company limestone quarry in Tuscumbia, Alabama in 2010. Gordon Tillman claimed he suffered racial abuse working at a quarry at Vulcan's CalMat subsidiary in Livermore. Photo: Buyenlarge/Getty Images, Carol M. Highsmith
An African American worker in Livermore has sued his employer, the nation's largest construction materials company, for racial harassment, saying his supervisor kept a noose at work, called him racist names and suggested that he make a barefoot climb like a monkey.
Gordon Tillman said local managers at Vulcan Materials Co. ignored his complaints for three years, then suspended his supervisor, Shawn Geaney, for one day in September for what the company described as "bad language." Tillman said he contacted the company's national office and Geaney was fired, after which Tillman found himself shunned by the plant manager and another supervisor.
"Race harassment unfortunately appears alive and well in the 21st century – even in the Bay Area," Tillman's lawyer, Kelly Armstrong, said in the suit, filed Friday in Alameda County Superior Court. She said Tillman, who worked with heavy equipment and removed rocks from the quarry at Vulcan's CalMat subsidiary in Livermore, is on disability leave.
Vulcan, based in Birmingham, Ala., said it was reviewing the suit. "We are committed to maintaining a work environment that is free from unlawful harassment and discrimination by any co-worker, supervisor or other person," the company said in a statement.
Geaney could not be reached for comment.
The suit said Tillman, hired in August 2008, started hearing racist remarks from his supervisor in 2010. Tillman said Geaney called him " gordo uva negra," Spanish for "fat black grape," and told him his skin was too dark to pass the "paper bag test." When Tillman carried equipment with heavy chains on his shoulder, Geaney asked if the chains were "bringing back memories," the suit said.
If you or someone you know has been the victim of African American racial harassment, the attorneys at The Armstrong Law Firm can help you obtain justice and fair compensation for any potential damages caused. Call (415) 909-3945 or contact us online to schedule a free case evaluation with one of our expert San Francisco race harassment lawyers.
It also said Geaney kept a hangman's noose at the job site, asked Tillman and other African American employees if they knew what it was, and boasted that he knew how to make a perfect noose with six or seven knots.
Geaney threw rocks at Tillman on the job site and sprayed him with water, the suit said. Last August, when Tillman needed to remove a chain from a high wall, Geaney suggested that he should take his shoes and socks off and climb the wall, because "that's what … you guys do," apparently comparing African Americans to monkeys, the suit said.
After Tillman provided a list of witnesses to the incident, the plant manager gave a one-day suspension to Geaney, who threatened violence against Tillman when he returned, the suit said. Tillman said he went to the plant manager, who suggested Tillman was equally at fault, and then contacted the central office, leading to Geaney's dismissal.
After that, the manager and Geaney's former supervisor stopped talking to Tillman, the suit said. He is seeking unspecified damages against Geaney and the company, including punitive damages.
Bob Egelko – January 19, 2014
The original version of this article can be found at SFGate.com.