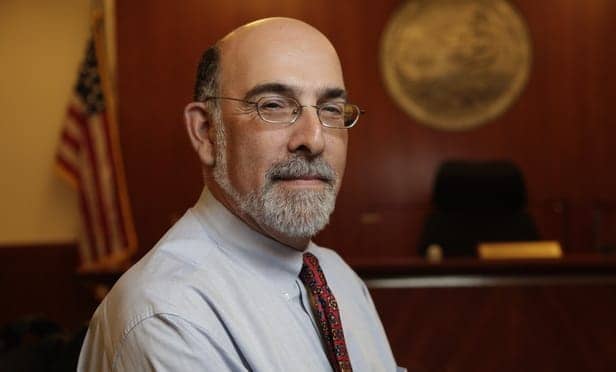 SAN FRANCISCO – Two weeks of juicy testimony in a gender-bias trial against Kleiner Perkins Caufield & Byers boiled down to one central question Wednesday: why aren't there more women in venture capital?
That million-dollar question didn't come from lawyers representing the Silicon Valley venture-capital firm, or from lawyers representing plaintiff Ellen Pao.
It came from a juror.
"Were women not interested?" the juror posed in a written question submitted anonymously for Kleiner managing partner John Doerr. "Or did the venture-capital world fight them off?"
San Francisco Superior Judge Harold Kahn, who is presiding over the high-profile case, has encouraged jurors to submit questions for witnesses at the conclusion of their testimony. While not unheard of, the practice is somewhat unorthodox. Lawyers who support it say the ability to ask questions keeps jurors engaged and gives attorneys valuable real-time insight into what's on jurors' minds.
So far, the court has heard quite a bit from the 12 jurors and four alternates empaneled to decide whether Kleiner Perkins discriminated against Pao because of her gender.
The question for Doerr prompted a long and seemingly sincere answer from the well-known Silicon Valley investor.
"Generally the best of those investors have been entrepreneurs and have successfully started companies before, or they have considerable operating experience," Doerr said. "For a variety of unfortunate reasons, there are far too few female technology entrepreneurs. … I believe it's too hard for them to get funded."
Several San Francisco employment lawyers said it's rare for jury questions to play as prominent a role as they have been so far in the Kleiner Perkins case.
Jurors often ask questions during deliberation, but few judges actively solicit questions from the jurors throughout the proceedings. Whether the judges do or not is entirely up to them as California law leaves judges with great discretion on how to handle jury questions. Kahn didn't ask the lawyers involved in the Kleiner Perkins case to approve his policy.
His process is to invite written questions after each witness testifies in the case. His clerk collects the questions, and after conferring with the lawyers from each side, Kahn poses the approved questions to the witness.
Pao is represented by Alan Exelrod of Rudy, Exelrod, Zieff & Lowe and Therese Lawless of Lawless & Lawless. Orrick, Herrington & Sutcliffe partner Lynne Hermle represents Kleiner Perkins.
So far the jury questions in this case have been insightful and, if nothing else, show the jury is paying attention. The jury asked Kleiner Perkins CFO Susan Biglieri what percentage of the firm's investments have a liquidity event, which gives backers an opportunity to reap profits on their investment through an acquisition of an initial public offering. Biglieri said she didn't know.
One anonymous juror asked Doerr how many junior partners Kleiner Perkins had fired, and how many of those were men.
Doerr estimated there have been about two dozen junior partners over the course of the firm's history. Of those, only five were promoted. He said about three-quarters of that larger group were men.
"What's unusual, truly unusual, is for a partner to be promoted," Doerr said.A juror also wanted to know specifically how Pao failed to improve her performance before she was fired in 2012.
"She failed to develop domain expertise so she was a thought leader and sought out in a certain area," Doerr said, and she failed to gain the confidence of her fellow partners.
Judge Kahn, appointed by former Gov. Gray Davis in 2001, allows juror questions in nearly all his trials, according to court spokeswoman Ann Donlan."
Judge Kahn believes this practice makes for a better trial and more engaged jurors," she wrote in an email. "Jurors have repeatedly told Judge Kahn that they appreciate the opportunity to ask questions. Attorneys generally do not oppose it, but a few have."
Currently a civil trial judge, Kahn also has presided over San Francisco's domestic violence and drug courts. He lost a bid for presiding judge in 2012 in a rare contested election. Kahn played a pivotal early role in Pao's suit against Kleiner Perkins, denying the firm's motion to compel arbitration.
Kelly Dermody, chair of Lieff Cabraser Heimann & Bernstein's employment group, said she thinks judges increasingly are "piloting this practice" of asking for jury questions throughout the trial.
"It is useful to the process," she said in an email. "It can also be very empowering for jurors to get answers to questions as they arise, rather than waiting long after they've been confused about something and have formed opinions based on partial information."
For lawyers, there are some risks when a judge permits jury questions, said Reed Smith partner L. Julius Turman.
"Certainly there is a chance that a juror question may raise issues that you're not expecting," he said.
But that input can also help lawyers tailor their future lines of questioning to better address the jury's concerns, Turman said.
The 12-person jury in the Kleiner Perkins case is now split evenly along gender lines. (Kahn subbed in a male alternate Friday for a female juror, who had a family emergency.) The panel includes a jail nurse, a painter and a BART operations manager.
Kahn has been affable with jurors throughout the trial. On a break he invited jurors to ask him questions unrelated to the case. One asked what kind of lawyer Kahn had been before he became a judge. "An excellent one," Kahn replied.
In Pao's case, some questions may hint at whether jurors sympathize with her story.
"Is it the norm for junior partners to complain about their peers?" one juror asked. Lawyers for Kleiner Perkins have claimed Pao's inability to get along with other partners was a major reason for her termination. Emails displayed in court show Pao suggesting co-workers be fired, complaining about partners leaving her out of meetings and events, and claiming a partner was not doing a good job serving on a company board.
Doerr called it unusual.
A juror also wanted to know why, if Kleiner Perkins was having trust issues with Pao, firm leaders suggested her for a major role in the expansion to China."It's not that we didn't trust Ellen Pao," Doerr said. "It's that there wasn't enough trust."
Under prodding from Kahn to elaborate, Doerr added: "It's work that needs to be done, and we believed, I believed, she would be successful in getting it done."
Those kinds of questions can be helpful to the lawyers, according to employment attorney Kelly Armstrong of the Armstrong Law Firm.
"They give us potential insight into where the jury is leaning, what they're thinking about and how we can tailor the rest of the trial," Armstrong said. "But it is truly like trying to read tea leaves."
The original version of this article can be found at TheRecorder.com .