The loss of a job can have a great impact on every aspect of your life. Being wrongfully fired can take an even more serious toll on a female executive who has worked so hard to get where she is and break through the glass ceiling. If you have been terminated from your executive position and believe the action violated federal and state employment laws, we can help.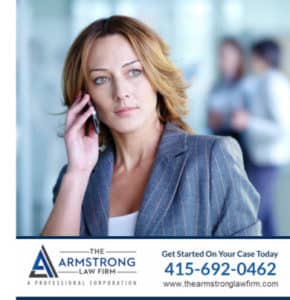 At The Armstrong Law Firm, we use decades of experience when seeking justice for female clients who have been wrongfully terminated from an executive position. Based in the Bay Area and from offices in San Francisco, Sausalito, San Jose and Oakland, our wrongful termination lawyers work tirelessly to see that any legal violations by the employer are brought forth, including the real basis for the termination.
We do not tolerate employers firing women in retaliation, due to the reporting of sexual harassment, discrimination, pregnancy or other federally protected reasons, and will aggressively protect your rights every step of the way.
Damages That Can Be Sought By Executives
As with any type of wrongful termination case, you may be owed damages if the case is found in your favor. Executives with higher compensation and benefits packages may be owed additional damages, including:
Lost wages: Any compensation that you would have earned had your employer not terminated you. This includes any potential overtime and commissions.
Unpaid benefits: Termination also comes with the loss of benefits, such as health insurance, 401(k)s, stock options, pensions and other high-value benefits. You would be entitled to reimbursement of the value of these benefits or the reinstatement of the benefits altogether.
Emotional and mental distress: It can be extremely stressful to be wrongfully terminated from your job. Not knowing what happened or feeling you were unjustly fired can cause emotional and mental distress that can be compensated for.
Attorneys' fees: Having to hire a lawyer to take on your wrongful termination case can be expensive. As part of your lawsuit, you can seek to have your attorneys' fees paid by the employer that fired you.
Punitive damages: In the event that the situation was particularly damaging or egregious, it is possible to see that additional money is paid, as punishment, by the employer in order to additionally compensate you and make the employer recognize the severity of their illegal termination.
Get Started On Your Employment Case Today
We can evaluate your wrongful termination situation and determine the best way in which to proceed. To schedule a free consultation with a female lawyer who knows what it is like to fight for equality in the workplace, contact our San Francisco wrongful termination law firm via email us using our online contact form.